We are the trusted and preferred Skip Bins Hire & Waste Management provider in Sydney
Grasshopper is a top provider of skip bins hire services in the Sydney Metropolitan area and the Blue Mountain region. We have over 40 years of experience serving Sydney's commercial, industrial, construction and demolition sectors, enabling us to provide total waste management solutions.
You can come to us for one-off waste bin hire services, contract us for a project, or contract us as your official partner in total waste management solutions. Working with all types of businesses, we are knowledgeable and equipped to handle most types of waste disposal challenges. Putting the highest importance on our clients' requirements, we adjust and expand our capabilities to deliver an ethical and efficient skip bin hire and environmental services.
For outstanding skip bins hire services in Sydney, contact Grasshopper Environmental.
Wide range of Skip Bins sizes
Our wide range of Skip Bins includes our 1.5 Site Bin, 2 Marrel, 4 Marrel, 6 Marrel, 10 Marrel, 15 Hook Lift, 23 Hook Lift and 30 Hook Lift. Also available for hire is our popular craneable bins, concrete slurry bins and Mud Bins.
Concrete Slurry Bin
L: 1.8M / W: 1.3M / H:0.40M
1.5 Site Bin
L: 1.8M / W: 1.1M / H:1.0M
2 Marrel
L: 1.9M / W: 1.6M / H:0.85M
4 Marrel
L: 2.5M / W: 1.6M / H:1M
6 Marrel
L: 3.4M / W: 1.6M / H:1.3M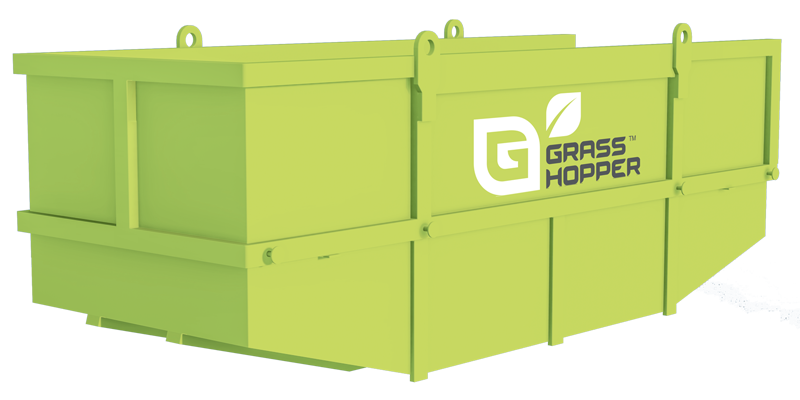 10 Marrel
L: 4.5M / W: 1.6M / H:1.58M
15 Hook Lift
L: 4.6M / W: 2.4M / H:1.53M
23 Hook Lift
L: 7.1M / W: 2.4M / H:1.53M
30 Hook Lift
L: 6.5M / W: 2.4M / H: 2.15M
Mud Bin
L: 6.5M / W: 2.4M / H: 1.0M
Guaranteed turnaround
We arrive on time with the right skip bins so your operations run smoothly without a problem.
Disposing of all types of waste
With proper segregation and arrangements, we accommodate hazardous waste, including asbestos.
Commercial and Industrial Waste Bin Hire
Innovation is at the heart of our services. From meeting standards and regulations to safeguarding one's reputation, we understand the difficulties businesses in the commercial and industrial sectors face.
For businesses with limited space for bins, we have pioneered a wider range of mobile bin sizes, along with compacting and baling solutions. We also help businesses separate recyclables at the source, preventing contamination and improving their waste diversion rates.
With Grasshopper's rubbish bin hire services in Sydney, you have a partner in ensuring regulations compliance and safe and hygienic premises.
Skip Bins Hire for Construction and Demolition
Grasshopper offers comprehensive skip bins hire services for Sydney's construction and demolition sectors. Our team is proficient with builders' waste management plans and can coordinate with trades to ensure a smooth flow at the site.
For contract hires, we offer full 6-day operation with after-hours services available on request. You will be given a direct phone number and a designated contact, plus our management staff will regularly visit your site to ensure that you are provided with effective and efficient waste management solutions.
The Best Partner for Green Star Certification
When it comes to Green Star Construction and Demolition (C&D) Waste Management Reporting, we are Sydney's best. We are proficient in various types of waste data reporting and have helped numerous projects achieve Green Star accreditation. We trace waste from your site and see to it that it goes to the proper recycling centres and disposal areas.
For best practice skip bins hire and recycling, contact Grasshopper Environmental today.